If you are planning to travel and Abu Dhabi is your layover point, then I will tell you everything about transit visa, process to apply, processing time and its absolutely free. U.A.E. gives two types of transit visa for its visitors and you need to apply through some dedicated channels to get one for your next trip.
Now one can wonder why I wrote Abu Dhabi transit visa and not U.A.E. Visa, because the channel I am introducing to you guys here works for only Abu Dhabi sector. That means your inbound and outbound journey should happened through only Abu Dhabi airport (AUH). If one of the journey is from different region like Dubai or Sharjah then this channel will not process your application.
U.A.E. government accepts visa applications through some dedicated organisations like their airlines(Emirates, Etihad, Fly Dubai or Air Arabia) or tour agency and etc. In this article I am going to explain only about Abu Dhabi sector, So your inbound and outbound should happen through Abu Dhabi only.
If you port of entry or exit or both is Dubai/ Sharjah/ any other city, and you are using Etihad for Visa, then they will simply reject your visa application. So even if you have paid 50 AED for 96 hrs visa, you won't get refund from Etihad.
If you find any information wrong or misleading, You can contact me here

Who needs Visa?
If you are from those privileged countries where you just need to come with your passport and immigration officer just stamp your passport with no questions asked, then this paragraph is not for you. But if you are not from below countries then definitely you will need Visa.
30 Days Visa on arrival eligibility:
Andorra
Australia
Brunei
Canada
China
Hong Kong, China
Japan
Kazakhstan
Macau, China
Malaysia
Mauritius
Monaco
New Zealand
Republic of Ireland
San Marino
Singapore
Ukraine
United Kingdom and Northern Ireland
United States of America
Vatican City
90 Days Visa on arrival eligibility:
Argentina
Austria
Bahamas Islands
Barbados
Belgium
Brazil
Bulgaria
Chile
Colombia
Costa Rica
Croatia
Cyprus
Czech Republic
Denmark
El Salvador
Estonia
Finland
France
Germany
Greece
Honduras
Hungary
Iceland
Italy
Kiribati
Latvia
Liechtenstein
Lithuania
Luxembourg
Maldives
Malta
Montenegro
Nauru
Netherlands
Norway
Paraguay
Peru
Poland
Portugal
Romania
Russian Federation
Saint Vincent and the Grenadines
San Marino
Serbia
Seychelles
Slovakia
Slovenia
Solomon Islands
South Korea
Spain
Sweden
Switzerland
Uruguay
Indian citizens
Indian citizens holding a normal passport and either
a visit visa issued by the USA or
a green card issued by the USA or
a residence visa issued by the UK or
a residence visa issued by the EU
needs no visa prearranged, you can get Visa on arrival.
you can refer below link for more Visa information on your country.
https://u.ae/en/information-and-services/visa-and-emirates-id/do-you-need-an-entry-permit-or-a-visa-to-enter-the-uae
How to fill application form?
Below is the link where you need to start with your Visa application. There are multiple Visa options available and you can opt for particular which meets your requirement. In this article we will explore only Transit Visa option.
Just because we are applying from Etihad doesn't mean that you should travel with Etihad Airways. You can choose any other airlines just make sure both port of entry and exit happen through Abu Dhabi.
https://www.etihad.com/en-in/fly-etihad/visas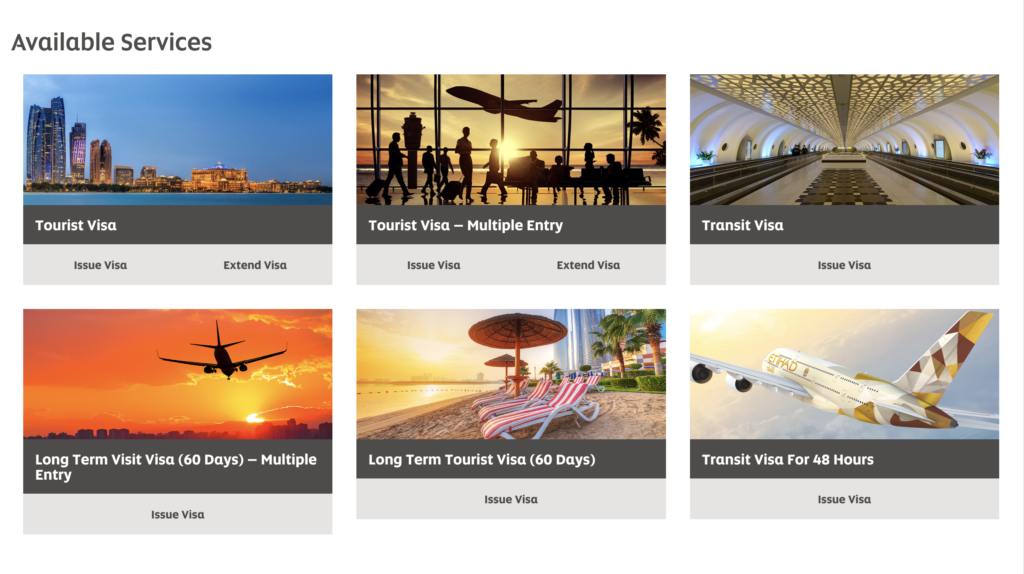 Now there are two transit visa options available on this website and you can choose according to your requirement.
48 Hr Transit Visa fees : Free
96 Hr's Transit Visa fees : 50 AED
Step 1:
Click on above link and select "Transit Visa" or "Transit Visa for 48 Hours"
Step 2:
Start filling application with correct details and review it once.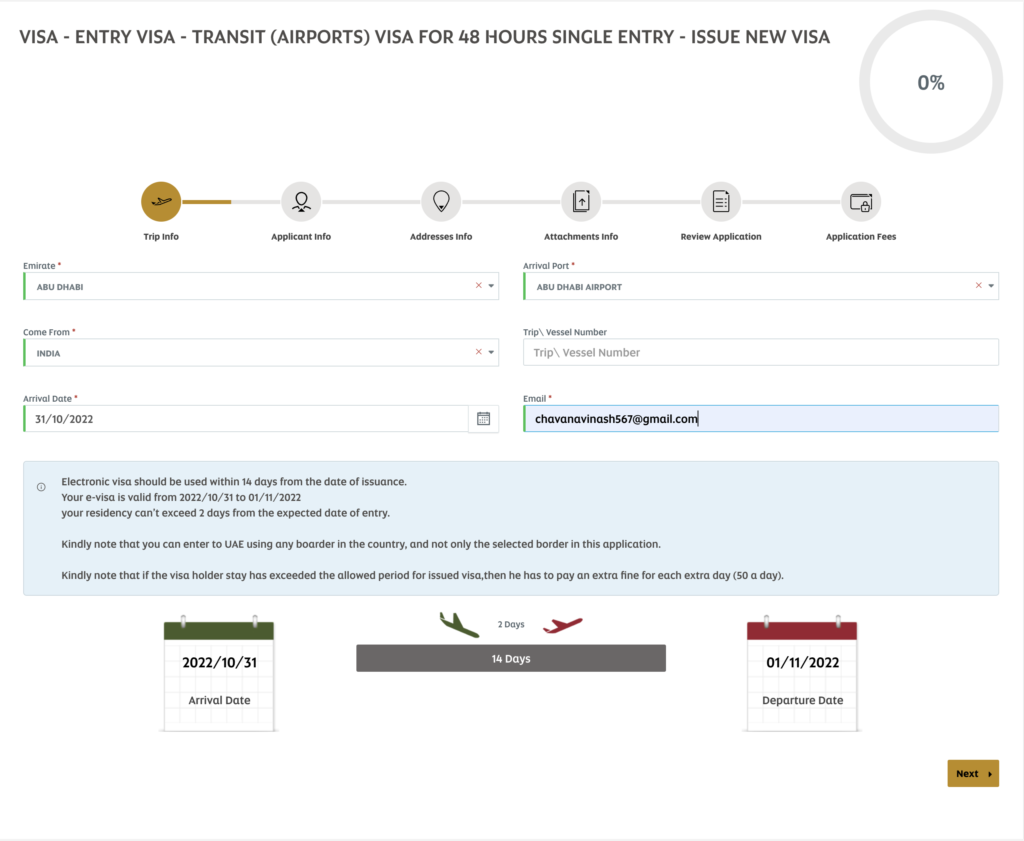 one thing don't forget, you can only apply to transit visa 14 days before and not before 14 days. But this won't create any issue because you will get visa within one or two days.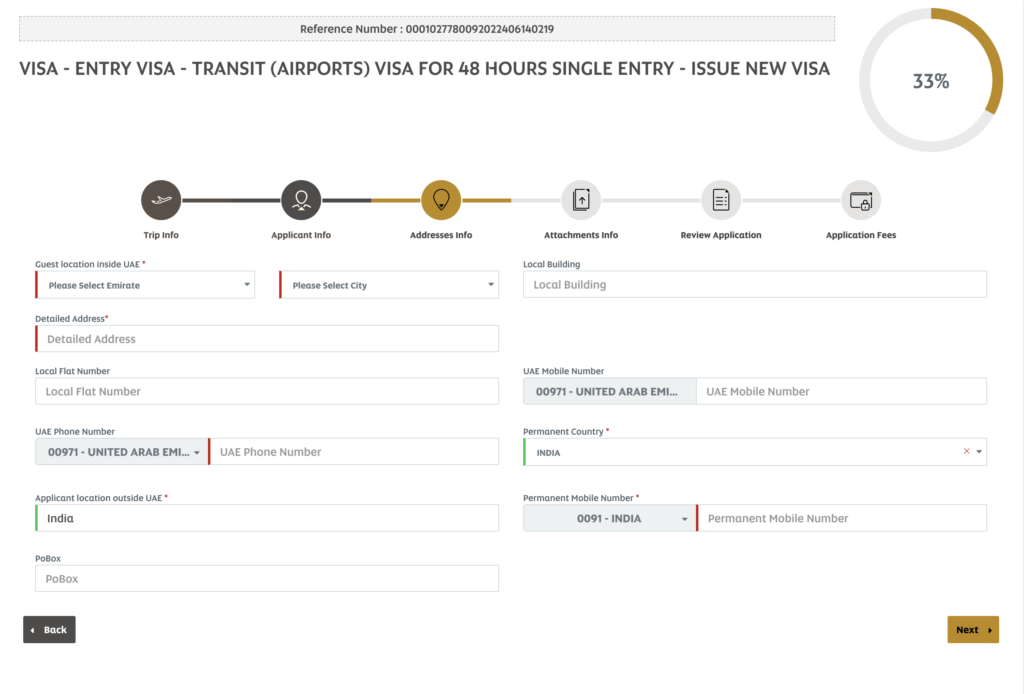 Yo can change Permanent Country and Permanent mobile no to your country as you won't have U.A.E. mobile no.
In U.A.E. phone no you can update any hotel no, just book some random hotel from any website and give that address as local detailed address and phone no.
Step 3:
After filling every details, you need to upload below documents which are mandatory.
copy of Passport
colour passport size photo
inbound and outbound flight ticket
Step 4:
Review your application once and submit it. For 48 Hrs application there won't be any visa fees and for 96 Hrs Visa you need to pay 50 AED.
After this you just need to wait for Visa. Yo!!
If you are having issue with your application?
Let's say you have done with your application and eagerly waiting for your Visa. Now suddenly you received mail saying you have some issue with your application and Etihad can't process your application. There might be small mistake from your side or they misunderstood something while processing your application to ICP Services, U.A.E. government.
So in this type of cases, you either correct your application how they want it(might be layover time issue which is 8Hr's to 48 or 96 Hr's or anything) or you can contact Etihad team on below email address and tell them about your issue with application no, So it will resolve asap. They are known for their prompt response, so you can handle any query regarding Visa's with them.
Etihad Visa team : visaonarrival@etihad.ae
If you have any questions or you think this article needs to be update then please leave a comment down below.
Thank You for reading this article, I hope it gave you required information. Hope to see you on other articles. Cheers!!